A quick rundown of some stand-outs from 2017's second week of Fed Cup action:
*A "BACKSPIN DOZEN" OF THINGS THAT WERE GOOD*




1.

The Rinaldi Era: Chapter 2


Nothing better than the Stars and Stripes ??????#TeamUSATennis pic.twitter.com/2g9NjNdLno

— Shelby Rogers (@Shelby_Rogers_) April 24, 2017



========================================




2.

Sasnovich & Sabalenka


========================================




3.

Kiki & the Pastries. On the court, if not off it.





========================================




4.

Waffles... they aren't just for breakfast (or w/ chicken) anymore


========================================




5.

CoCo (even if you still can't help but hold your breath when she complains to the umpire about anything, even if it's only a divut in the court from her opponent pushing off on her serve)


========================================




6.

The Swarmettes, winning in spite of their "leader"




Can you hear it? -- "Si-mo-na!"


========================================




7.

The youthful Aussies, finally


#ThatFeelingWhen you win your first #FedCup rubber and get a big hug from your captain! #PhotoOfTheDay @Daria_gav pic.twitter.com/23RUzqO7SE

— Fed Cup (@FedCup) April 22, 2017



========================================




8.

The Dutch: Resurrection


========================================




9.

The rise of Viktorija Golubic Rebecca Sramkova Elise Mertens





========================================




10.

Team Italia. Not dead yet. (And they have a Martina, too!)


========================================




11.

Julia G. & Barbara R. (they're no Anastasia & Anastasia)


========================================




12.

Oh, Canada...


Scenes. ??????????#FedCup #GoCanada pic.twitter.com/qYxzcuO6xc

— Tennis Canada (@TennisCanada) April 23, 2017



========================================




13.

The steady hand of Petr Pala, even in defeat


========================================
*NINE THAT WEREN'T*




1.

Anastasia Myskina starting to look more and more like Mary Joe Fernandez (no mustaches, though... yet)





========================================




2.

Switzerland's missed opportunity





========================================




3.

Alize Cornet Anastasia Pavlyuchenkova and Yaroslava Shvedova in Fed Cup singles


========================================




4.

The Slovakian bait-and-switch weekend


========================================




5.

Elina Svitolina's 2017 To-Do List (an unchecked box that'll have to wait)





========================================




6.

France thinking that everything is great, aggressively not seeing the dark forest for the pretty leaves on one Spanish tree


========================================




7.

Kazakhstan... again


Poots:"The court is small and quite loud, so yesterday I got a headache, as well as today. That helped my nosebleed" #FedCup #CANKAZ

— Vanni Gibertini (@vgibertini) April 23, 2017



========================================




9.

It used to be said that the only man to ever stop Michael Jordan was Dean Smith, his college basketball coach at North Carolina. After a banner high school career, the eventual "Air" to the NBA throne didn't immediately become a factor under Smith because he didn't like to play freshmen. The same might be said about Daria Kasatkina and Russian FC Captain Anastasia Myskina.




The Czarina may be rewarded some day for her incessant notion to give opportunities to Anastasia Pavlyuchenkova, but we're still waiting for the day. Try as she may, she's not going to play the role here of Amelie Mauresmo to Caroline Garcia. The former French FC Captain showed faith in those who took advantage of their chances. After all, even Mauresmo had the good sense after a while to realize even she couldn't make Alize Cornet into a clutch FC singles performer. Myskina won't with Pavlyuchenkova, either.

Of course, she might not even get the chance in 2018 and beyond to prove that she's learned that lesson.


========================================
*ONE THAT WHETS THE APPETITE FOR THE FUTURE*
Vika. November. Minsk.
Mark your calendar.
*ONE THAT TOOK THINGS TO ANOTHER LEVEL NEW FED CUP LOW*
The last thing Fed Cup weekend needed was a Hall of Famer, slam winner, former #1 and Fed Cup Captain spouting racist stream of conscious comments during the week, acting inappropriately around a fellow Captain, then getting into a shouting match and calling that same Captain (GBR's Anne Keothavong) and one of her team members (Johanna Konta) "bitches" as he's led off the court, off the grounds and out of the entire event before the weekend was half over. Oh, then as he was being led away, he also called the British reporter "stupid" who'd reported some of his earlier transgressions, and had to be held back by security guards escorting him away.
But that was the disgrace that Ilie Nastase brought to this particular table.
Ille Nastase ejected in disgrace from @FedCup Match--> https://t.co/vFv43wJhYe

— WTA (@WTA) April 22, 2017
Earlier in the week, Nastase was overheard talking about Serena Williams' unborn child, reportedly "joking" that we'd
"see what color it has. Chocolate with milk?"
The father of Williams' baby, of course, is fiance Alexis Ohanian, who is white. On Thursday, during team press conferences with both teams, Nastase put his arm tightly around Keothavong. Then when both teams took the stage, said to the married and pregnant Keothavong, "We keep being attracted," and apparently made some remark about getting her hotel room number.
On gameday Saturday, during the 2nd set of Konta's match with Sorana Cirstea, when the chair umpire admonished the Romanian crowd in Constanta for heckling Konta, Nastase angrily stepped up and said, "
This isn't the opera. What's your f***ing problem?
" He called the umpire an "ass****," then as things escalated appeared to call Keothavong and Konta "f***ing bitches," as well. He was ejected from the court, then off the grounds, with his credentials revoked for the rest of the weekend. After finishing off a game, with Konta in tears, play was suspended for twenty minutes with Cirstea serving up 3-1 in the 2nd.
The ITF has issued the following statement regarding Ilie Nastase pic.twitter.com/yiYP1DycCz

— ITF (@ITF_Tennis) April 22, 2017
When play resumed, after Simona Halep addressed and calmed her hometown crowd, a more collected Konta came out strong and swept through the final games for a 6-2/6-3 win. Afterward, Cirstea, admitting she didn't know exactly what Nastase had said, but questioned the stoppage, believing Konta should have played on, and stood up for the reputation of Romania as a whole.
With Monica Niculescu assuming Captain duties, the Romanians ultimately came back strong and won two singles matches to clinch the win over Britain on Sunday.
Watch out! Captain Moni is in charge! Proudly, froooom Roooomaniaaa, @Simona_Halep! ???????????? #FedCup pic.twitter.com/Mlp4458dGm

— SimonaHalepFanSpace (@LosHalepenos) April 24, 2017
The ITF has released this statement regarding the provisional suspension of Ilie Nastase pic.twitter.com/Xf9R0PSi4D

— ITF (@ITF_Tennis) April 23, 2017
Said Keothavong, "
We expected a patriotic crowd for the Romanian team, but we don't expect abusive language to be used...what (Nastase) said directed to both Johanna and myself is...language that is not appropriate for anyone to speak to any other human in that particular way and that's not what we have come here for...we certainly don't expect verbal abuse.
"
Flowers from Nastase to each of the British team rounds off the weekend. Or at least we think it does.

— Russell Fuller (@russellcfuller) April 23, 2017
Yeah, okay.



=Semifinals=


United States(H) def. Czech Republic 3-2
Belarus(H) def. Switzerland 3-2


=World Group Playoffs=


France(H) def. Spain 4-0
Belgium def. Russia(H) 3-2
Germany(H) def. Ukraine 3-2
Netherland def. Slovakia(H) 3-2


=World Group II Playoffs=


Italy(H) def. Taiwan 3-1
Romania(H) def. Great Britain 3-2
Australia def. Serbia(H) 4-0
Canada(H) def. Kazakhstan 3-2


=Zone Promotion Finals - LTU=


[Europe/Africa II]: Slovenia def. Luxembourg 2-0
[Europe/Africa II]: Sweden def. Denmark 2-1
[SEMIFINALS]
United States def. Czech Republic 3-2
(Tampa, Florida - GCO)
USA: Vandeweghe,Rogers,Davis,Mattek-Sands (Capt: Rinaldi)
CZE: Siniakova,Vondrousova,Kr.Pliskova,Allertova (Capt: Pala)
...
sometimes, it's nice to be right.
Our 1st appearance in the Fed Cup SF since 2010 & we WON. ???? mad respect to Captain Kathy Rinaldi & #TeamUSATennis on the tremendous victory pic.twitter.com/m2h4HUluKY

— USTA (@usta) April 23, 2017
Of course, it's also great when the Tennis Gods provide a team (
and a Backspinner
) looking to make a point with a 1st Round opponent playing without the world #1, then a semifinal foe playing without any of the Fed Cup stars that have contributed to a dominant run of ten consecutive tie victories, nine straight semis and five FC titles over the last six years.
You never question the TG's... you just smile to yourself when they present you with clear skies and crisp air.
It's what you do.
But make no mistake, this tie could have gone sideways for the Bannerettes. It could have gone sideway for the Czech Maidens, too. And it speaks well of the respective team Captains, Kathy Rinaldi and Petr Pala, that both the U.S. and Czech Republic emerged from this tie in Florida with their heads held high and with hopes soaring for the future.
But only one will be playing for the title in November.
And in rookie Rinaldi's first attempt, she'll get the chance to see her team play for the cup. No nation has won more FC titles (17) than the U.S., but it's been seventeen years since a win was added to that total, after nearly a decade of roster mismanagement, zero foresight, a decided lack of "feel" and strategic gameday shenanigans during the run of now (thankfully) departed FC Captain Mary Joe Fernandez.
Pala, too, could have had this tie blow up in his face. But it didn't. It speaks to the neverending depth of talent --
none of the four players on this roster had played a FC singles match before this weekend, and two were making their CZE debuts
-- that has made the nation the dominant force in team competition for nearly a decade, as well as the Big Czech Machine quality and mentality that has developed over that time. By now, everyone involved EXPECTS things to go well, and the decisions to be sound, and takes it upon themselves to do their part in following through on the established orders they've been presented with from the outset. Even after his team lost in the deciding doubles on Sunday, during his interview with Martina Navratilova, Pala's face and tone of voice showed that he knew he was up against it with an inexperienced roster, but the fight the players showed in even getting as close to a win as they did assures him that the Czech FC future will continue to be bright. He surely felt as if he THOUGHT it was so, but after Saddlebrook he KNOWS it.
Unlike MJF, Rinaldi, even with her team the unexpected favorites against what wasn't a Czech "A"-team, didn't feel the pressure to make desperate moves to avoid a disaster. As it turned out, her two "gut" gambles, playing Shelby Rogers in match #2 (
she never held serve vs. Katerina Siniakova
) and Lauren Davis in #4 (
she was outplayed by a 17-year old
) with the tie on her racket, didn't play out in the U.S.'s favor. But she was able to roll the dice and see what her team was capable of because she'd built a contingency plan(s) into her roster, something that Fernandez never quite figured out until she was heading out the door (
her '16 decisions were quite good, but totally in opposition to what she did for the bulk of her eight-year run when she didn't -- and sometimes even when did -- have a Williams to fall back on
). With doubles #1 Bethanie Mattek-Sands on the roster, the Bannerettes had a veteran leader, someone who could take charge in a deciding doubles situation, and even a former title-winning partner in CoCo Vandeweghe for her to go to battle with if things came to that. The Rogers "Plan B" didn't work, and neither did the Davis "Plan C" to get that clinching third win, but the doubles "Plan D" was always there to save the day should all other plans fail. They did, but it still worked out. Only a stumble from team leader Vandeweghe in singles would have led to some gameday scrambling, but CoCo, SO in her element in team competition, was the most in-form player in the tie (
even on green clay, hardly her best surface
) aside from a few brief serving lapses. She went 2-0 for the second time in '17 FC competition.
Plan B's (
and C's, and D's
), a flexible roster, and the lack of fear when it came to taking a chance (or two) on lineups, even if it will only serve to inform her about FUTURE decisions down the line. That's why Rinaldi has so quickly turned around a flagging U.S Fed Cup endeavor, along with an ability to foster a team-wide (
Czech-like?
) feeling of togetherness and a desire and will to win. MJF often seemed like she was straining and stretching to do what she was SUPPOSED to do, from Point A to Z. For Rinaldi, after years of working with the title-winning junior team championship squads for the USTA, it seems to come more naturally after so many year of similar experiences.
The Bannerettes are still a long way from establishing the type of Fed Cup infrastructure to consistently challenge the Czech gold standard, but 2017 is really a foundation-laying year after a long drought. That Rinaldi has managed to get the opportunity to play for an unexptected title is surely satisfying, and confirms that all the wrongs that the eyes and brain detected over the years about the U.S. team weren't simple illusions, or, well, "fake news."
In Rinaldi We Trust.
[MVP]
CoCo Vandeweghe/USA
...CoCo has developed into something of a Fed Cup beast, in every good way possible. At this point, it's hard to envision the U.S. without her. She knows team competition. Her family has been involved in it all her life, and this is HER turn to shine. She talked of being "thrown into the fire" in her FC debut years ago when you-know-who was Captain. It was an experience that didn't seem to help her career. But her current role on this team has lined up perfectly with her regular work with coach Craig Kardon, and she's now ready to lead, and succeed. The AO semifinalist's straight sets wins over Marketa Vondrousova and Katerina Siniakova give her a 4-0 FC record in '17, and her inspirational --
and racket-breaking
-- abilities have served her well so far in her new role. She should have a seat next to Rinaldi, in any tie on any surface, for as long as she's willing and/or able to take it. She still needs a solid FC companion to pick up whatever singles slack she can't, being it the likes of a Keys, Stephens, Bellis or otherwise (
maybe even Venus as a temporary fill-in for the final, who knows?
), for the U.S. team to have the CORE group it needs for sustained success. Whatever happens in Minsk come November, Rinaldi has found ONE corner piece to her tenure's Fed Cup puzzle...
and her name is CoCo.
.@CoCoVandey beats Siniakova 6-4, 6-0!

Gives ???? 2-1 lead over ???? in @FedCup Semifinals! pic.twitter.com/zYJFizwyl5

— WTA (@WTA) April 23, 2017
===============================================
[FRESH FACE]
Marketa Vondrousova/CZE
...still on a high after her unexpected title run in Biel, the 17-year old Czech was pretty much handed the keys to the FC car by Petr Pala, who hoped she didn't crash it into the ditch. She didn't. While Siniakova was the highest-ranked Maiden in this tie, Vondrousova was the "of the moment" choice who went from a tour-level qualifier to playing a key role in the Big Czech Machine in a week's time. She didn't win her opening match, but she never crumbled, either. She put up a good fight against Vandeweghe, then downed Lauren Davis in straight sets to send things to the deciding doubles (
Davis' DF on SP in the 2nd set, which would have brought the crowd into things even more in a 3rd, helped
). Pala's faith in the teenager was rewarded by her efforts, and he won't likely ever feel as if he's taking a chance by turning to her again. Already having led the Czechs to a junior Fed Cup title, Vondrousova will eventually play a large role in taking the big prize, as well.
???? Marketa Vondrousova sends the #FedCup semifinal into a deciding 5th rubber with a 62 75 win over ???? Lauren Davis! Who will win? pic.twitter.com/m9AddyIsUB

— Fed Cup (@FedCup) April 23, 2017
===============================================
[DOUBLES]
Bethanie Mattek-Sands/USA
...Mattek was always sitting on the bench, ready to be called upon by Rinaldi if she was needed. Maybe her presence allowed the Captain to roll the dice a bit TOO much in singles (
especially with the Davis call
), but that's why roster flexibility is necessary in Fed Cup (
at least in this best-of-five format, which might not even exist a year from now if the big format change happens
). With things knotted up at 2-2, BMS joined with Vandeweghe to defeat Siniakova and Kristyna Pliskova in straight sets, sending the U.S. to the final for the first time since 2010 (
and without even needing a Williams to get there
). Mattek-Sands is now 7-0 in her FC doubles career.
???? @BMATTEK & @CoCoVandey ??????
USA ?? #FedCupFinal pic.twitter.com/Xt28GqEgAc

— Fed Cup (@FedCup) April 23, 2017
===============================================
Match #5 - Mattek-Sands/Vandeweghe (USA) def. Kr.Pliskova/Siniakova (CZE)
...6-2/6-3.
Mattek-Sands isn't just 7-0 in Fed Cup doubles, she's 3-0 in DECIDING doubles, too.
===============================================
Belarus def. Switzerland 3-2
(Minsk, BLR - HCI)
BLR: Sasnovich,Sabalenka,Govortsova,Lapko (Capt: Dubrou)
SUI: Bacsinszky,Golubic,Bencic,Hingis (Capt: Gunthardt)
...and in the other half of 2017's highly-unlikely Fed Cup final match-up, it'll be Belarus. In seven months, likely with a new (playing) mother on board (
No, not THAT one, the OTHER one! Yeah, HER.
) we could very well be crowning the most improbable FC champions since... hmmm, well, THE most improbable champions in the 56-year history of the competition. (
Only Belgium in '01 might better qualify, but not after what we learned about THAT team in the seasons that followed.
)
Two months removed from heading home to Minsk and getting an unexpected win over the Dutch, last year's surprise FC semifinalists who (apparently) passed the Cinderella baton during that match-up, the Belarusians defended their own turf yet again in the nation's first-ever appearance in the final four, earning a chance to play (
are you sensing a trend?
) in Minsk yet again in November in an attempt to create maybe the greatest moment in the history of Belarus tennis. Previously, Vika Azarenka's slam title runs would qualify for top billing, but it'll be interesting to see where the former #1 would rank the accomplishments.
Luckily, she should be there, in uniform.
She even managed to be on the sidelines THIS weekend.
On the court, Belarus has been led through the '17 FC jungle by two unlikely commanders, Aliaksanda Sasnovich and Aryna Sabalenka, respectively, 23 and 18-year olds who have never risen above #91 in the WTA rankings. But the red-and-green uniforms suit them.
Or, should I say, the red-and-green outfits... as in superhero outfits.
Minus the capes.
Though that may change in a few months.
Meanwhile, the Swiss arrived in Minsk looking like a perfectly-constructed Fed Cup team. Having not reached the final since 1998, they were back in the semis for a second straight year, with the same four-member squad: a veteran player regularly ranked in the Top 20 (Timea Bacsinszky), last year's surprise Fed Cup star (Viktorija Golubic), a Top 10 talent who overcame her recent difficulties to notch a huge clinching singles win in February vs. France (Belinda Bencic) and a Hall of Fame doubles specialist (Martina Hingis) who was on the team when it LAST appeared in a Fed Cup final.
What wasn't to like?
Problem is, Captain Heinz Gunthardt never got to utilize the back-end of his tennis bullpen. If Switzerland could have pushed things to the deciding doubles, where Hingis and Bencic, the latter oddly rested when the tie was on the line in match #4 in a move that proved to backfire, would have been waiting.
But Belarus' Sunday surge, when Sasnovich completed yet another undefeated FC weekend (4-0 in '17) and Sabalenka downed Golubic to clinch the tie and avoid going to the doubles, managed to once again rewrite the expected script.
It's become a common occurrence in the sport in 2017, and it looks as if that isn't going to change anytime soon.
If Captain Eduard Dubrou has his way, it'll continue for, oh, about seven more months.
Aliaksandra Sasnovich/BLR
...just call her the Belarusian Hammer.
On Sundays, she leaves her victims a bloodies mess on the battlefield.
Sasnovich's match #3 win over Kiki Bertens in February set the course for the defeat of the Netherlands, and her upset of Timea Bacsinszky in the exact same position this weekend did the same vs. Switzerland. When just one win in each tie, as she substituted for Azarenka in the #1 singles slot, would have been noteworthy, Sasnovich has gone 4-0 in FC play this season. She's 7-1 in singles --
losing only to Daria Kasatkina
-- during the nation's two-year climb to unassuming prominence. Vika will get many of the headlines if she is, as expected, part of the team that will play for the title in November, but make no mistake that Sasnovich (
the world #91
) will be the #1 reason why the team will get such an opportunity to make history.
===============================================
BELARUS WINS!!! ???? Aryna Sabalenka defeats ???? Viktorija Golubic 63 26 64 and Belarus is in the #FedCupFinal for the first time! pic.twitter.com/jri3PDjlYr

— Fed Cup (@FedCup) April 23, 2017
[FRESH FACE]
Aryna Sabalenka/BLR
...it was 18-year old Sabalenka, making her FC debut, who first put the dent in the Kiki Bertens FC exterior in February, making everyone realize that the "impossible" really wasn't that at all. She didn't win THAT match, but she rebounded to provide the clinching win over Michaella Krajicek the next day. Sabalenka didn't claim victory in her Saturday match this time around, either, falling to Bacsinszky despite having been up a break in both sets, and leading 5-3 in the 2nd.
She'd held a MP vs. Bertens in her opening 1st Round match, as well.
But on Sunday, like Sasnovich, the teenager ruled. Once again in position to clinch the tie victory, Sabalenka held firm and took out Golubic in three sets, avoiding going to doubles (
where the Swiss would have been favored
) and then getting a free ride atop of whole lot of excited fellow Belarusians.
#FedCup celebrations are fun! But beware of low-flying feet!?????? pic.twitter.com/eDT2pXydcK

— Fed Cup (@FedCup) April 23, 2017
===============================================
Match #3 - Aliaksandra Sasnovich/BLR def. Timea Bacsinszky/SUI
...6-2/7-6(2).
The Belarusians seem to almost sneak in and steal their opponents' souls and jewels. It happened when they swiped the Cinderella crown from the Dutch, and it sort of happened here, as well. I listed Bacsinszky's gutsy 1st Round performance as the "Overall MVP" winner in February, and it's easy to have the title pass to Sasnovich here, largely thanks to her tie-turning victory over, yes, Bacsinszky herself. Timea hadn't played a match since Indian Wells before this weekend, but she pulled enough of her weight here to give the Swiss a chance at victory. Sometimes the #2 singles player needs to contribute as well, and Golubic's 0-2 mark (
after having gone 2-0 last year vs. a stocked Czech team
) failed to get the job done. Maybe Bencic SHOULD have played that fourth singles rubber vs. Sabalenka, especially considering her clutch win in February, really her only truly great result since last summer. Bencic's FC magic may have had another trick left in the bag.
But we'll never know.
???? Stunning from Sasnovich! ????

Belarus take a 2-1 lead in the semifinal thanks to Sasnovich's 62 76(2) win against Bacsinszky#FedCup pic.twitter.com/OiBIx8RBoC

— Fed Cup (@FedCup) April 23, 2017
===============================================
[WORLD GROUP PLAYOFFS]
France def. Spain 4-0
(Roanne, FRA - RCI)
FRA: Mladenovic,Cornet,Parmentier,Hesse (Capt: Noah)
ESP: Sorribes-Tormo,Soler-Espinosa,Saez-Larra,Martinez-Sanchez (Capt: C.Martinez)
...don't make Kiki angry. You wouldn't like her when she's angry.
As fun as she can be on the court, sometimes it's difficult to like her when she's not angry, too.
FRANCE WINS!!! A storming 61 61 win for ???? @KikiMladenovic over ???? Sorribes Tormo gives France a 3-0 victory over Spain! pic.twitter.com/DarTGV4JPM

— Fed Cup (@FedCup) April 23, 2017
After a week dominated by the FFT nominating, questioning, threatening and (ultimately) "exonerating" an injured Caroline Garcia for choosing to skip this tie (
after the rest of the French team "LOL"-ed at her situation on Twitter
), then nominating and un-nominating Oceane Dodin, who simply refused to play, THEN finally nominating Amandine Hesse as a last possible resort (again), the Pastries formed a tight circle and let Kristina Mladenovic's light lead them through the darkness. Yes, it helped that France was facing the Spanish "B" team rather than a squad with a Garbine, Carla or Lara, but Kiki IS a top level player when she's on her game, and could conceivably put the French team on her back and lead it through future Fed Cup rounds (
and after her crusty comments about fellow Pastries who DON'T play, she'd BETTER make herself available for EVERY tie from now until the end of her career, and maybe beyond
). But it surely won't be as easy for her to do it as it turned out to be this weekend.
As it is, the French sweep of Spain keeps the nation in the World Group for 2018, with the chance for another title run. As expected, the French brushed all the controversy aside after the successful outing. We'll see what happens next year if things don't go as smoothly. History tells us that things won't be nearly as tidy.
[MVP]
Kristina Mladenovic/FRA
...her love & 1 (Silvia Soler-Espinosa) and 1 & 1 (Sara Sorribes-Tormo) wins both set the tone against and finished off the Spanish team, and her national Fed Cup pride and hardline against any fellow Pastries/ex-friends/awkward acquaintances who don't agree with her on the subject have established an our-way-or-else atmosphere directly in line with the FFT's plans to hold players' feet to the fire (
threatening fines and/or suspensions
) if they don't wish to fully devote themselves to the French cause.
Whether that's a good thing, for now, or a bad one, for the future, will be determined at a later date.
???????????????? #TeamFranceTennis pic.twitter.com/4kJMrzJhu7

— PrettyLilMons†er (@GangstaPP) April 23, 2017
"
The atmosphere in the entire team has been great and I'm sure this team has a big future,
" Mladenovic said. "
I'm trying to be the best I can be tennis wise, and being a leader for the team with what I'm showing this weekend.
" When asked about any lessening of the hard comments and attitudes toward Garcia and Dodin, Kiki shrugged and offered this: "
It's their problem. It's not my job to convince people how beautiful this competition is; you have to have it inside of you, you have to love this competition and respect it.
"
And then she added, "
Personally, I don't respect the people that decide not to play that competition.
"
So much for not tossing gasoline on the fire, I guess.
But would we expect anything less (or more) from Mladenovic?
===============================================
[VETERAN]
Pauline Parmentier/FRA
...the 31-year old's slowly-percolating season --
which included 3rd Round results at both Indian Wells and Miami, where she notched two wins over Oceane Dodin (really), victories against Yulia Putintseva and Timea Babos, as well as a close 7-5 3rd set loss to Angelique Kerber after having led 4-1 in the deciding set
-- continued to swing upward in Roanne. Pushed into the #2 singles role with every Frenchwoman ranked ahead of her not named Kiki making themselves unavailable for the tie and Yannick Noah not being crazy enough to go back to the Alize Cornet well (
he's no Czarina, apparently
), Parmentier defeated Sara Sorribes-Tormo 4 & 2 (
winning five straight games to take the 1st after falling behind 4-1
) to give the Pastries a 2-0 lead coming out of Day 1.
===============================================
Match #1 - Kristina Mladenovic/FRA def. Silvia Soler-Espinosa/ESP 6-0/6-1
Match #3 - Kristina Mladenovic/FRA def. Sara Sorribes-Tormo/ESP 6-1/6-1
...
"
Since the beginning of the year, I've become another player on the court and have really improved a lot. The way I've been playing this weekend is the way I've been playing all season,
" Mladenovic said.
"Hopefully, I can keep shining like this in front of the home crowds for the big grand slam coming up."
Kiki's 2-0 weekend leveled her career FC singles mark at 6-6.
===============================================
Belgium def. Russia 3-2
(Moscow, RUS - RCI)
BEL: Mertens,Zanevska,Van Uytvanck,Mestach (Capt: Monami)
RUS: Vesnina,Pavlyuchenkova,Kasatkina,Blinkova (Capt: Myskina)
...the Russian Fed Cup team was once a proud force in the tennis world, but
Mary Joe Fernandez
Anastasia Myskina seems to be slowly running the entire enterprise into the ground.
Now, Backspin has always loved the Czarina.
We go waaay back.
The last few seasons, Myskina has seemed to play a key role in helping the Russian FC team get back on its feet, guiding the ship through the rough waters that saw the federation and Russian players at odds and ties being boycotted before, ultimately, the air was finally cleared during federation president Shamil Tarpishchev's suspension after making offensive comments about the Williams Sisters. But much like a certain former U.S. Fed Cup Captain, the '04 Roland Garros champ's roster decisions and gameday strategy are leaving much to be desired. On more than one occasion, she's shown blind faith in Anastasia Pavlyuchenkova, Russia's FC version of Alize Cornet, only to have the team be placed in a precarious position when the OTHER Anastasia (
who has won just four of twelve career FC singles matches
) failed to deliver. This weekend was another example. Despite having Charleston champ Daria Kasatina on the roster, Myskina yet again went with Pavlyuchenkova in match #2 on Saturday. Again, Pavlyuchenkova lost (
four & love!
). Again, the Russians found themselves painted into a corner. Questionable Day 1 decisions in February vs. Taiwan were overcome on Day 2, but Belgium was too good to fall prey to the same scrambling-to-clean-up-a-mess tactics.
Not that Myskina didn't try.
After Elena Vesnina fell in three sets to Elise Mertens in match #3, putting the Russians behind 2-1, Kasatkina WAS called upon to try to save the day. Not unexpectedly, after a slow start, she got her footing and blew away Marina Zanevska in the final two sets of a three-set win. This time not going with Pavlyuchenkova, Myskina asked Kasatkina to immediately return with Vesnina (
they'd teamed to win the Kremlin Cup in '15
) for the deciding doubles. When they weren't able to take down Mertens & An-Sophie Mestach, Russia fell victim again. At home, again. To an underdog team that rightly should have been defeated given all the advantages that Myskina's squad SHOULD have had, again.
With the historic loss to the Netherlands in last year's 1st Round, that's TWO such defeats under the Czarina's guidance in two seasons.
That just can't happen...
and you have to wonder if Myskina will be around in '18 to prevent it from happening yet again when the deep Hordette teams finds itself competing in World Group II.
Meanwhile, the sudden rise of the Belgians is now a real Fed Cup "thing." The Waffles started last season in zone play, but worked their way into a World Group II tie with Romania in February. After pulling the upset there, this one is only slightly more surprising, unless you remember that the win two months ago was led by vets Yanina Wickmayer and Kirsten Flipkens. This time, 21-year old Elise Mertens, who'd notched the clinching win over Irina-Camelia Begu vs. ROU, had a hand in all three points, joining with 23-year old An-Sophie Mestach to take the deciding doubles and send Belgium into 2018's World Group.
[MVP]
Elise Mertens/BEL
...Mertens is probably best known this season for becoming a maiden title winner in Week 2 in Hobart (
though her race-to-retire match vs. Sachia Vickery in that same event, as both looked to bail from the tournament early so they could play AO qualifying, isn't far behind
), but that changed this weekend in Moscow. Her 6-4/6-0 win over Pavlyuchenkova likely sealed Russia's (
and maybe Myskina's
) fate, but her match #3 win over Elena Vesnina in three sets was likely the result that the Hordette Captain didn't see coming. It turned the tie upside down, and will likely change how Mertens is viewed from here forward.
===============================================
[RISER]
Daria Kasatkina/RUS
...heading into the weekend for a clay court FC tie, Kasatkina was coming off her maiden title on the clay in Charleston. This was rightly viewed as quite possibly the moment when she would assume her place atop the Hordette Fed Cup pyramid. Everyone had faith in her.
Well, everyone, apparently, except for her Fed Cup Captain.
Given her late start, try as she might, Kasatkina couldn't drag the Russians team over the finish line by herself...
though if she'd been given a slot on the Saturday schedule -- maybe even in the #1 singles slot over Vesnina, considering the clay surface -- the odds may have actually been in her favor to do so.
The 19-year old was clearly Myskina's best option, but she can't make the Captain's decisions, as well.
Even The Kasatkina has her limits.
===============================================
[DOUBLES]
Elise Mertens/An-Sophie Mestach, BEL
...Mertens & Mestach --
Mertach?
-- both had the proper time to rest before the deciding doubles (unlike Kasatkina), and that may have played a big part in their 6-1/7-6(2) win over the Russians, who were chosen by Myskina because they'd previously won a tour-level title on an indoor hard court in Moscow about a year and a half ago. But the Belgians had a successful tour run to call upon, as well. They won the Auckland title to begin last season.
BELGIUM WINS!!! ???? @elise_mertens & @ansophiemestach defeat ???? Kasatkina/Vesnina 61 76(2) and Belgium defeats Russia 3-2! pic.twitter.com/DG1cJHpFlG

— Fed Cup (@FedCup) April 23, 2017
===============================================
[DOWN]
Captain Anastasia Myskina/RUS
...Myskina's calls on yet another disastrous Russian Fed Cup weekend were (at least) a day late and a ruble short. If Kasatkina was unavailable for two singles matches in this tie, then why wait for Sunday in favor of once again sending up a Pavlyuchenkova trial balloon that would only pop before it clears the trees? Anastasia's fatal attraction to giving the other Anastasia two, three or four too many chances may just have sealed the fate of her continued captaincy of this team. See...?
Kafelnikov: I'm not happy. That's all I can say right now. If you have any questions please ask Myskina (TASS).

— Ilya Ryvlin (@ryvlin) April 23, 2017
That surely doesn't sound good.
===============================================
Match #4 - Daria Kasatkina/RUS def. Marina Zanevska/BEL
...5-7/6-1/6-0.
Finally making her first appearance in the tie with the Russian hopes teetering on the edge of a cliff, a nervous Kasatkina got off to a slow start against Zanevska. The newly-Belgian 23-year old, making her FC debut substituting for Alison Van Uytvanck, took a 4-1 lead. She claimed the 1st set, but by then the Russian had found her form. Kasatkina would go on to win sixteen of the final twenty games in the match, but it wouldn't be enough to erase the Russian mismanagement that had preceded it.
???? @DKasatkina sends the #FedCup World Group play-off in Moscow into a deciding 5th rubber with a 57 61 60 win over ???? Maryna Zanevska pic.twitter.com/L8IP4hyRRe

— Fed Cup (@FedCup) April 23, 2017
===============================================
Germany def. Ukraine 3-2
(Stuttgart, GER - RCI)
GER: Kerber,Siegemund,Goerges,Witthoeft (Capt: Rittner)
UKR: Svitolina,Tsurenko,Savchuk,N.Kichenok (Capt: Filima)
...in Stuttgart, the biggest individual singles match-up of the week played out one way, but it was what happened around it that mattered the most.
At least where this weekend was concerned.
????? pic.twitter.com/uz2jEkVs4W

— Carina Witthöft (@WitthoeftCarina) April 23, 2017
Germany played in the Fed Cup final just three years ago, while Ukraine is one of the more loaded nations when it comes to NextGen talent, and came into the week seeking to reach the World Group for the first time since 2012. The WTA's veteran-laden German contingent may not have long-lasting FC contention in the cards, but Ukraine could be doing battle in important FC ties for most of the coming decade.
But this was not the moment when the upstarts would pass by the more established nation.
[MVP]
Julia Goerges/GER
GERMANY WINS!!! ???? @juliagoerges defeats ???? Lesia Tsurenko 64 64 to give Germany a 3-1 win over Ukraine! pic.twitter.com/Ok9yHJBrN7

— Fed Cup (@FedCup) April 23, 2017
...Captain Barbara Rittner's belief in Goerges paid off quite handsomely for Germany. Her match #1 upset of Elina Svitolina, while it was only a slight hole, was a loss from which Ukraine was never able to fully recover. Using aggressive play to come back from a set down to take out the world #13, Goerges forced Svitolina to defeat #1 Angelique Kerber on Sunday just to keep Ukraine's hopes alive. She did just that, but then Goerges responded with a straight sets win over Lesia Tsurenko that clinched the tie. Again, the veteran German had to stage a comeback, rebounding after falling down a break in both sets to win 4 & 4.
===============================================
???? @juliagoerges gives Germany a 1-0 lead with a 46 61 64 win over ???? Svitolina! pic.twitter.com/FOMJh23jCh

— Fed Cup (@FedCup) April 22, 2017
[DOWN]
Elina Svitolina/UKR and Angelique Kerber/GER
...while Svitolina DID manage to win the headlining match-up with Kerber in match #3, giving her a 4-0 record vs. the German since she won the U.S. Open and first ascended to #1 last summer, the victory became an act of scrambling desperation for the Ukrainian after she'd lost match #1 to Goerges. Going up a set vs. Goerges, as the #1 singles player for Ukraine, Svitolina HAD to win that match. For all the coming talent Ukraine has in the future FC pipeline, the first Top 10 player in the nation's history didn't have a margin for error in Stuttgart. After such a quick start to her season in 2017's opening two months, Svitolina had a lackluster North American hard court swing in Indian Wells and Miami, and the lull continued into this weekend. Her rebound to once again take down Kerber, in a match that saw her sweep the final six games after falling behind 2-0 in the 2nd, will hopefully send her into the spring on a high note.
But it wasn't enough here.
Stuttgart, where she defended her singles title one year ago (
and will attempt to win a third straight this coming week
), provided Kerber with a chance to erase any lingering doubts about her slow start to '17. Her 1 & 4 win over Tsurenko was a good start, but getting just six games off (now) nemesis Svitolina shows that the soon-to-be-#2 (
on Monday, though she could return a week from now, replacing the pregnant Serena
) still isn't QUITE back to where she wants to be. Williams' absence will give her time to fully right the ship, but as other big-game WTA stars trickle back onto the tour over the coming months, the road through the season will soon be a crowded one once again. Right now, Kerber looks like she could soon begin to fall behind the competition.
===============================================
???? @ElinaSvitolina records an impressive 64 62 victory against Angelique Kerber and now Ukraine trail 2-1 in Stuttgart#FedCup pic.twitter.com/PlZhh7bZ9E

— Fed Cup (@FedCup) April 23, 2017
Match #3 - Elina Svitolina/UKR def. Angelique Kerber/GER
...6-4/6-2.
This was Svitolina's fourth career #1 victory (
Serena and Kerber in '16, a top-ranked Kerber twice this year
). All four wins have come in the last eight months.
*2017 WINS OVER #1*


Brisbane 2nd - #14 Svitolina d. #1 Kerber
Sydney 2nd - #26 Kasatkina d. #1 Kerber
Australian Open 3rd - #35 Vandeweghe d. #1 Kerber
Miami QF - #12 V.Williams d. #1 Kerber
Monterrey Final - #16 Pavlyuchenkova d. #1 Kerber
Fed Cup WG PO - #13 Svitolina d #1 Kerber
===============================================
Netherlands def. Slovakia 3-2
(Bratislava, SVK - RCI)
NED: Bertens,Hogenkamp,Burger,Rus (Capt: Haarhuis)
SVK: Cepelova,Sramkova,Kucova,Hantuchova (Capt: Liptak)
...the best laid plans of mice and Slovaks often go awry.
Or at least they did in Bratislava.
NETHERLANDS WINS!!! ???? @Richelhogenkamp defeats ???? Kristina Kucova 75 64 to seal a 3-1 win for Netherlands over Slovakia! pic.twitter.com/lWsi19wUO0

— Fed Cup (@FedCup) April 23, 2017
After Captain Matej Liptak had successfully cobbled together a rag-tag group of Slovaks that was good enough to upset the Italians (
two-Quartet members strong
) in February, with newcomer Rebecca Sramkova and veteran Daniela Hantuchova carrying the load, it seemed as if the fates had shined upon Slovakia this time around. Hosting this weekend's tie vs. the suddenly-skidding Dutch (
two consecutive losses after reaching the '16 final four
), and with Top 10er Dominika Cibulkova set to play, an indoor red clay court was chosen. Though the Netherlands players love the play, especially Kiki Bertens, Cibulkova's presence was supposed to erase any potential advantage for the opponent. Then Cibulkova was pulled from action with a wrist injury on Friday, and the Slovakian bubble would soon burst as a result. Rather than the surface choice luring an in-form Cibulkova into action leading into the clay season, it played right into the hands of the Dutch.
"
In the end, ironically, the clay helped us rather than Slovakia,
" said Richel Hogenkamp. "
They counted on Cibulkova playing. It would have been a whole different match if she had played. As soon as we heard she was out, yes of course it changed all our thinking. It would have been tough for us with her or without her, on clay or on hard, but on indoor clay without her it gave us an advantage, and we made it count.
"
[MVP]
Kiki Bertens/NED
...Bertens' Fed Cup luster was dealt a serious blow in February vs. Belarus when she barely defeated Aryna Sabalenka (
saving MP
) and then lost to Aliaksandra Sasnovich. But with the Dutch FC comet suddenly streaking in the wrong direction across the skyline, and SVK up 1-0 after one match, the team needed its leader to step up. She did. Big time. After being surprised by newcomer Sabalenka two months ago, she didn't let a nervous Rebecca Sramkova get a foothold against her in match #2, winning 1 & 3. Her 3 & 3 defeat of Jana Cepelova in match #3 (
which Kiki admitted would have been "a different match on hard court"
) calmed any fears of a repeat of the Belarus team-wide collapse, and once again gives Bertens a FC winning streak to carry over into '18 (
and maybe the '17 slam season, as well
). She's 18-2 in her grand-once-again FC singles career.
===============================================
[RISER]
Richel Hogenkamp/NED
...every good Fed Cup team is in search of a solid #1, and a dependable #2. Bertens ably fills the former slot for the Dutch, and Hogenkamp has developed into the latter. One of the highlights of the Netherlands' 2016 run to the semifinals was Hogenkamp's record-breaking 4:00 marathon vs. Svetlana Kuznetsova in the Dutch team's historic upset of the Russians in Moscow. After missing February's loss to Belarus (
which doesn't look so bad now, in retrospect
), Hogenkamp returned in Bratislava. While her straights sets win over Kristina Kucova won't be long remembered, it DID provide the clinching point in the Netherlands' victory and erased any bad aftertaste she might have had from her 3 & 2 loss to Jana Cepelova to open play on Saturday.
===============================================
[DOWN]
Dominika Cibulkova/SVK and Rebecca Sramkova/SVK
...Cibulkova's late pull from the roster with a wrist injury put the Slovak team's collective backs against the wall. The Slovaks survived in February, largely due to teenager Sramkova's unexpected 2-0 record. But with the pressure on her to produce this time around, things didn't go well. Admittedly a bundle of nerves, she won just four games vs. Bertens in match #2. Then, with the tie on the line in match #4, Captain Liptak bypassed her in favor of Kucova. Sramkova may well have a banner FC career that lives up to her remarkable debut, but this will forever be a weekend worth forgetting.
===============================================
Match #4 - Richel Hogenkamp/NED def. Kristina Kucova/SVK
...7-5/6-4.
Sramkova was removed from the rotation for this match after an admittedly nervous performance on Saturday. There was talk that Daniela Hantuchova, who'd played a surprise clutch role in SVK's February win over Italy (
def. Errani 2 & love
), might be called upon on Sunday to save the tie on what was her 34th birthday, but Captain Matej Liptak went with Kucova to keep Slovakian hopes alive.
They didn't live much longer, though.
===============================================
[WORLD GROUP II PLAYOFFS]
Italy def. Taiwan 3-1
(Barletta, ITA - RCO)
ITA: Errani,Paolini,Trevisan,Rosatello (Capt: Garbin)
TPE: Lee Ya-hsuan,Hsu Chieh-yu,Hsu Ching-wen,Chuang Chia-jung (Capt: Wang Shi-ting)
...
The reports of their death were greatly exaggerated.
This time, at least.
FORZA ITALIA!! ???????? #fulminate #simangiaancheitavolini #deh #worldgroup #fedcup @MartinaTrevisa3 #jas #rosa pic.twitter.com/2t1AyaNVtH

— Sara Errani (@SaraErrani) April 23, 2017
Perhaps this tie was won before a single ball was struck, when Taiwan, already without the Chan sisters, decided to forfeit the right to host this match (
after having won six straight ties before losing to Russia in February
), giving Italy the opportunity to play at home on red clay, a surface which ultimately left the vanquished marveling at the abilities on the surface of one Sara Errani. Said Hsu Chieh-yu after notching just two games off the veteran in the one hour long match #2:
"She is the best player I have ever faced on a clay court, especially in that 1st set."
With Errani's clay court game a factor, the Taiwanese needed to make do against the rest of the Italian team and hope to get to the doubles. The remaining three Italians had a collective zero FC singles victories to their credit. In match #1, though, Martina Trevisan won a break-filled, three-hour contest that ended with a 12-10 3rd set over Taiwan's top player in this tie, Lee Ya-hsuan. It was a killer blow, though Lee did return, with Italy up 2-0, to take the 1st set off Errani in match #3 before losing in three, clinching the win (
the nation's first since 2015
) that prevented Italy from falling into zone play for the first time since 1997.
If this tie had been a road contest for Italy, on an indoor hard court, things might have a little different. In February, Lee had pushed Ekaterina Makarova to three sets on HC, while Chang Kai-chen (
not on this roster
) put up a win over Anna Blinkova. But, as it is, this will go down as a clay court learning experience for the Taiwanese team. Meanwhile, Team
Italia
does not sleep with the fishes. Not yet, anyway.
[MVP]
Martina Trevisan/ITA
???? @MartinaTrevisa3 comes through an epic battle with Lee Ya-Hsuan 26 63 1210 in almost 3 hours to give Italy a 1-0 lead over Chinese Taipei pic.twitter.com/0XNNhUMfNZ

— Fed Cup (@FedCup) April 22, 2017
...yes, Errani went 2-0. But 23-year old Trevisan's first career FC win was the "spare" that was needed from Italy's "Zero Club" to prevent any potential spin-outs in Barletta. That it came in match #1 doesn't lessen the impact of the performance.
===============================================
[VETERAN]
Sara Errani/ITA
...Errani was expected to go 2-0 in this tie, and she did, though her dominant victory on Day 1 wasn't exactly repeated on Day 2.
But she had room to breathe, with Italy holding a 2-0 lead at the time.
If Lee had knocked off Trevisan, and the entire tie was being played on a hard court in Asia, the natural Italian advantage would have been lost, or at least challenged. If the Italians can get some of this sort of good fortune next February, maybe they can even string together TWO tie wins and delay this whole funeral thing for another season.
===============================================
Match #1 - Martina Trevisan/ITA def. Lee Ya-hsuan/TPE
...2-6/6-3/12-10.
And a budding Italian Fed Cup legend is born?
Or at least what will amount to one in the post-Quartet era.
Serving for the match for a fourth time proves to be the charm for Trevisan in a 22-break, nearly three-hour marathon that will go down as one of the more memorable, if imperfect, Italian FC debuts ever.
===============================================
Romania def. Great Britain 3-2
(Constanta, ROU - RCO)
ROU: Halep,Begu,Niculescu,Cirstea (Capt: Nastase Niculescu)
GBR: Konta,Watson,Robson,Rae (Capt: Keothavong)
...what was supposed to be one of, if not the, most competitive tie of the weekend ended up being yet another black-eye for international tennis due to the disgraceful actions of Romanian
Captain
Ilie Nastase, during the week, the tie, and then even after he'd been banished from the premises.
But, in the end, after Johanna Konta had weathered the emotional storm to even the tie on Saturday with a win over Sorana Cirstea with the Nastase dark clouds still hovering over the proceedings, it was the Romanian team that came together in the face of adversity. Showing the fire and drive that made them look like FC contenders a few seasons ago, rather than the knee-buckling, oft-underachieving team that came in on a three-tie losing streak after preparing to face Czechs in a deciding doubles match in the 2016 1st Round, with Monica Niculescu stepping in as acting/playing Captain, the Swarmettes put the greater good of the team and Romania's national reputation front and center and carried the day with pride in spite --
or maybe because?
-- of it all.
Great job today, @HalepBand! pic.twitter.com/5Ajiq3RTMM

— Team Halep (@FansOfSimona) April 23, 2017
[MVP]
Simona Halep/ROU
...playing in her hometown, Halep played the leader on the court and off. She opened the tie with a 4 & 1 win over Heather Watson, calmed the crowd after the Nastase mess, then set a true course for the team for the remainder of the weekend by taking down Johanna Konta by a 1 & 3 score to begin play on Day 2. If this is the Si-mo-na we're going to be seeing this spring, we might just be seeing a lot of her.
Even in Paris.
===============================================
[RISER]
Irina-Camelia Begu/ROU
...last year's clay court revelation, Begu only saw the court for a single match on the weekend, but it was the clincher that put the tie to rest. Handling the pressure of the moment well, she admitted that she didn't play her "best tennis" vs. Watson in match #4 but that it didn't matter.
"I just wanted to win and show the people we are really strong."
ROMANIA WINS!!! ???? @irina_begu defeats ???? Watson 64 75 and Romania defeats Great Britain 3-1 to maintain its place in World Group II pic.twitter.com/I3foTDmxMt

— Fed Cup (@FedCup) April 23, 2017
===============================================
[DOWN]
Ilie Nastase/ROU (Captain embarrassment)
...it's never good when a Fed Cup Captain acts the role of the drunken, racist, sexist uncle at a family reunion that lasts all week. It always felt like an odd fit for Nastase --
a tennis legend, but one with a controversial, at best, reputation even in his 1970's prime
-- to be the Fed Cup leader, and we saw exactly why that was in Constanta. His actions can't be stood for, and if he's ever allowed to have a leadership role in a sanctioned ITF event again it will be one too many. Truthfully, the sanctions should really go far deeper than even that, but remember the organization we're dealing with.
Unfortunately, if he's "normalized" and granted full access again by the next round of international team events in '18 it wouldn't even be shocking.
===============================================
Match #3 - Simona Halep/ROU def. Johanna Konta/GBR
...6-1/6-3.
A preview of the remainder of the clay court season...
for both women?
Advantage ????@Simona_Halep beats Johanna Konta 61 63 to give Romania a 2-1 lead in this #FedCup tie pic.twitter.com/2w2Pp5HMfX

— Fed Cup (@FedCup) April 23, 2017
===============================================
Australia def. Serbia 4-0
(Zrenjanin, SRB - HCI)
AUS: Gavrilova,Barty,Aiava,Dellacqua (Capt: Molik)
SRB: Stojanovic,Krunic,Jorovic,Radanovic (Capt: Jecmenica)
...on the road, naturally, the Aussies finally lived up to their promise. For now, and maybe for the foreseeable future, as well.
AUSTRALIA WINS!!! ???? @Daria_gav defeats ???? Nina Stojanovic 60 63 and Australia takes down Serbia 3-0 to keep it place in the world's elite! pic.twitter.com/5m3NNQYgi9

— Fed Cup (@FedCup) April 23, 2017
Playing without Sam Stosur, but with a young core of players who could lead the way for much of the next decade, Australia dominated the Serbs without dropping a set when a loss could have sent the nation to zone play for the first time since 2009. That didn't happen, and SHOULDN'T for quite some time.
If Captain Alicia Molik can keep this core group intact, this could be the start of a long-overdue era of Aussie Fed Cup optimism.
We didn't even get to see Destanee Aiava, the next great Australian hope, on the court in this tie.
In due time... in due time.
Next up: maybe routinely doing this sort of thing in front an Aussie home crowd.
[MVP]
Dasha Gavrilova/AUS
...before this weekend, Gavrilova was long on spirit, but short on results, since becoming officially eligible for Australian FC play last year. She came into the weekend 0-3 in her FC singles career, and not in a missed-it-by-that-much sort of way, either. After back-to-back Januarys when she's brought "The Dasha Show" to Melbourne, she took the production on the road this time. She allowed four games to Ivana Jorovic on Saturday, then only three on Sunday in the singles clincher. Having finally gotten over the FC hump, and successfully filling the #1 singles slot, Dasha could very well now become the team's heart and emotional soul as things go forward.
===============================================
[FRESH FACE]
Ash Barty/AUS
...already a tour singles/doubles champ in '17, Barty added wins in both in this tie. She set the tone for the weekend by allowing just seven game to (usual) Serbian charm bracelet Aleksandra Krunic to get Australia off on the right foot in match #1. Once Gavrilova had secured the tie, Barty took to the court with doubles partner Casey Dellacqua and finished off the sweep. She's 5-2 combined in her FC career, and will surely be adding many, many more W's over the years.
2-0 and a job to finish tomorrow
???????????? #FedCup #GoAussies #SRBAUS
??: Srdjan Stefanovic pic.twitter.com/W0btwwT3xt

— Ash Barty (@ashbar96) April 22, 2017
===============================================
Match #2 - Dasha Gavrilova/AUS def. Ivana Jorovic/SRB
...6-2/6-2.
If Gavrilova had lost this match, it could have taken her down another FC rabbit hole. But a dominating win might have permanently altered the trajectory of her Aussie FC career.
Or at least she and Molik hope.
???? @Daria_gav defeats ???? Ivana Jorovic 62 62 to record her first ever #FedCup win! Australia leads Serbia 2-0 after Day 1 pic.twitter.com/gHcNfg68oG

— Fed Cup (@FedCup) April 22, 2017
===============================================
Canada def. Kazakhstan 3-2
(Montreal, QUE - HCI)
CAN: Andreescu,Abanda,Sebov,Dabrowski (Capt: Bruneau)
KAZ: Putintseva,Shvedova,Voskoboeva,Kerimbayeva (Capt: Doskarayev)
...Genie, who?
Franckie & Bianca are quite enough (and more), thank you very much.
CANADA WINS!!! ???? @Bandreescu_ defeats ???? Shvedova 76(1) 64 and books Canada's place among the world's elite for 2018! pic.twitter.com/UO8XPkOXC6

— Fed Cup (@FedCup) April 23, 2017
While their more famous countrywoman never quite thrived (
pretty much the opposite, really
) in the Fed Cup atmosphere, the even younger set of Canadians surely do. Against a talented but perpetually underachieving Kazakh team, 20-year old Francoise Abanda and 16-year old Bianca Andreescu took turns taking whacks at the KAZ piñata until it started bleeding at the nose, then finally imploded and covered the court in maple syrupy goodness that sends Team Canada to the World Group II round in '18 with a lingering, sweet taste of success.
[MVP]
Francoise Abanda/CAN
...Abanda has shown well in Fed Cup play before, often providing hope in otherwise hopeless Canadian defeats. But now with a legitimate second threat by her side, the player ranked BETWEEN Genie Bouchard and Bianca Andreescu was this weekend the effective calm amid the Fed Cup storm. After Andreescu fired up the arena by ALMOST defeating Yulia Putintseva in match #1, Abanda came along and shut down Yaroslava Shvedova, allowing just seven games to knot the tie. A day later, with what would happen next still decidedly up in the air (
but with Kazakhstan still something of a favorite to advance
), she shut everything down, delivering a 3 & 3 loss to Putintseva that left the Top 30 player, recent tour singles finalist and slam quarterfinalist ('16 RG) searching for answers,
and with a nosebleed.
===============================================
[JUNIOR]
Bianca Andreecu/CAN
...on fire on every level of play since crumbling in the AO junior semifinals when she was mere points from playing for a chance to be the first non-Bouchard to win a girls slam singles crown, Andreescu (
a Fed Cup Heart Award winner for her work in February
) once again showed why she's a good bet to be the highest-ranked Canadian on the WTA computer within two years (
well, unless maybe Abanda can convert her FC prowess to pro success and beat her to it, I suppose
). With power and mettle, she pushed Yulia Putintseva in the opening match before falling in three sets in 2:43, delivering a message to the Kazakh that things weren't going to be as easy as maybe she'd anticipated against the youthful Canadian contingent. On Day 2, after Abanda had recorded back-to-back wins, Andreescu routinely smothered veteran Yaroslava Shvedova in straight sets to secure the clinching point in the tie. All this,
and the big head treatment, too.
She's goin' places.
===============================================
[DOWN]
Kazakhstan, Yulia Putintseva, Yaroslava Shvedova & Captain Dias Doskaryev
...for years, talent-rich Kazakhstan has been an easy pick as a Fed Cup nation to watch.
But it's just never happened.
Probably the most underachieving FC squad this side of about 85% of the teams of former U.S. Captain Mary Joe Fernandez (
and maybe 80%-and-rising of those of current -- for now, at least -- Russian Captain Anastasia Myskina
), Kazakhstan finally found itself a tie away from finally reaching the World Group. Against a team of young Canadian singles players aged 16-20 that might have been "satisfied" with a good "learning experience" in such a big FC match-up so early in the team's evolution, and with the nation's best player (Putintseva), longtime FC member (Shvedova) and a doubles duo that carried extra baggage through the February zone wars (Shvedova/Voskoboeva) to get here all aboard, things looked to have tipped in their favor. The Canadians weren't going to be an "easy" out, but it was a reasonable belief that KAZ would get through.
Umm, no.
Putintseva was somewhat lucky to avoid going 0-2, while Captain Dias Doskaryev, after finally shifting the head-slappingly-bad-in-the-clutch Shvedova out of the singles (
where she's good for at least one, or sometimes two, crushing defeats every tie
) in February in favor of her generally good doubles participation, stunningly played the veteran in TWO singles matches on the weekend. She lost both in straight sets, and the doubles teaming with Voskoboeva never even had the chance to make a difference. While it's tempting to say this not-close loss was an upset, really, when you consider that the Kazakhs were on the losing end,
it really wasn't.
===============================================
Match #3 - Francoise Abanda/CAN def. Yulia Putintseva/KAZ
...6-3/6-3.
Abanda's calm exterior extinguishes Putintseva's, well, Pootsy-ness. While this left Canada a win a way from victory, which Andreescu got in fairly short over against Shvedova, once Kazakhstan's best hope for success had failed to go 2-0 pretty much ALL hope was lost.
???? @franckie12345 defeats ???? Yulia Putintseva 63 63 to give Canada a 2-1 lead in the #FedCup World Group II play-off! pic.twitter.com/dQeMCqySBf

— Fed Cup (@FedCup) April 23, 2017
===============================================
[Europe/Africa II Zone]
=Siaulial, Lithuania - HCI=
Promotional Playoff: Slovenia def. Luxembourg 2-0
Promotional Playoff: Sweden def. Denmark 2-1
...in Lithuania, the four teams that advanced out of Pool play to the Promotional Playoffs were hardly unexpected. But after Day 1 of action began with the deep Slovenia squad (Zidansek,Jakupovic,Juvan,Klepac) knocking off Sweden (Larsson,Lister,Cabaj Awad,Rinaldo Persson), it wasn't a sure thing that those same two teams would ultimately be the last nations standing.
Slovenia stun Johanna Larsson's Sweden on day one at the #FedCup Europe/Africa Zone Group II event in Lithuania https://t.co/mWnTMXGMPz pic.twitter.com/Bi2m935KRK

— Fed Cup (@FedCup) April 19, 2017
As it turned out, Slovenian Captain Andrej Krasevec managed the deep roster well, positioning the lower-ranked Dalila Jakupovic in the lead-off singles slot, followed by the debuting Tamara Zidansek, who faced off with the opponent's top player. Sweden scrambled behind the veteran leadership of Johanna Larsson, who recovered from her Day 1 stumble (
a loss to Zidansek
) to pull the team back from the edge of defeat in the Promotional Playoff.
[MVPs]
Tamara Zidansek/SLO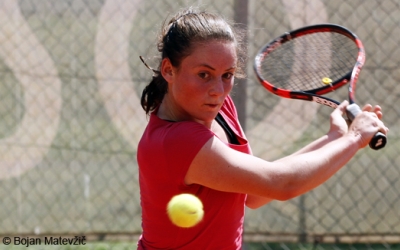 ..the tour's second-ranked (#142) Slovenian player, the 19-year old made her Fed Cup debut this week. She went 3-0 in singles, knocking off #1 singles players for Sweden (Johanna Larsson) and South Africa (Chanel Simmonds) in Pool play, then notching the clinching victory in the 2-0 Promotional Playoff win over Luxembourg, coming back from a set down vs. Eleonora Molinero (
rather than an injured Mandy Minella
). Slovenia won three of the four ties the nation played during the week, with the one loss coming to Norway in the only tie in which Zidansek didn't play. Over the past two seasons, Zidansek has reached eight ITF singles finals, going 5-2 in 2016.
Johanna Larsson/SWE
...the 28-year old veteran, already a Swedish FC stalwart, added another chapter to her legacy this week. After falling in singles to Zidansek on Day 1 of Pool play in Sweden's loss to Slovenia, Larsson rebounded by not losing again, winning three singles and two doubles matches while leading her nation to an appearance and win in the Promotional Playoff over Denmark. After defeating Karen Barritza to send things to the deciding doubles, she teamed with Cornelia Lister to put away a 2-1 win over the Danes. Already Sweden's all-time FC leader in doubles victories, Larsson took her career singles win total to 30 this week (
Sofia Arvidsson leads with 50
).
===============================================
[RISERS]
Dalila Jakupovic/SLO and Karen Barritza/DEN
...playing in her nation's lead-off singles slot, top-ranked Slovene Jakupovic went 4-0 on the week, as well as 1-1 in doubles.
She'd been a combined 1-4 in her FC career before this week's action, having last played in 2014.
The 26-year old's recent tour-level success surely has lifted her confidence, as in recent weeks she's achieved a new career-best singles rank (#134), reached the Monterrey doubles final and posted a 1st Round win in Bogota over defending champion Irina Falconi.
24-year old Barritza was undefeated (3-0/1-0) in Pool play, defeating Mandy Minella and Sandra Samir in singles, and teaming with teenager Francati to win the deciding doubles over Luxembourg as Denmark (3-0) was the only nation in Europe/Africa II Pool play to go undefeated. But with the tie on her racket in the Promotional Playoff vs. Sweden, she dropped Match #2 to Johanna Larsson, then she and Francati lost to Larsson & Cornelia Lister in the concluding deciding doubles clash.
===============================================
[SURPRISE]
Norway
...led by FC vet Ulrikke Eikeri (
whose first tie was back in 2008
) and 17-year old Malene Helgo, Norway handed Slovenia its only loss in four ties in Europe/Africa II play this week, notching a win in Pool play. The Norwegian team didn't finish high enough to play in a Promotional Playoff, but was able to play for its E/A II life in a Relegation tie, defeating the hosting Lithuanians 2-0 to avoid falling into E/A III in 2018.
===============================================
[FRESH FACES]
Emilie Francati/DEN and Sandra Samir/EGY
...19-year old Francati went 3-1 in singles, and 2-1 in doubles on the week. She followed up her only singles loss in Pool play by teaming with Karen Barritza to win the doubles and notch a victory over Luxembourg en route to the nation compiling its 3-0 record. In the Promotional Playoff vs. Sweden, Francati opened the tie with a win over Cornelia Lister, but she and Barritza couldn't down Lister & Johanna Larsson in the deciding doubles, falling in straight sets.
19-year old Samir provided the clinching singles win over Chanel Simmonds in Egypt's 2-0 Relegation victory over South Africa.
===============================================
Great 3-0 win for ???? I won another singles match & got the privelege to play doubles with Johanna Larsson for the first time??????? pic.twitter.com/3dPMd5WioC

— Cornelia Lister (@cornylister) April 21, 2017
[DOUBLES]
Johanna Larsson/Cornelia Lister, SWE
...playing doubles together for the first time --
after Larsson had formed a longtime FC duo with now-retired Sofia Arvidsson
-- 22-year old understudy Lister & vet Larsson put together an undefeated slate in their two matches as a pair, including winning the deciding doubles match that defeated Denmark in the Promotional Playoff.
===============================================
[JUNIOR]
Malene Helgo/NOR
...the 17-year old went 1-1 in singles Pool play, and was part of the doubles duo that won the deciding match in Norway's 2-1 win over Slovenia, that nation's only loss this week. On Saturday, Helgo claimed the opening match in Norway's 2-0 Relegation match-up win over Lithuania. Just two weeks ago at the Juan Carlos Ferrero Grade 1 junior event in Spain, she reached the singles semis and doubles final, extending her current streak of three consecutive appearances in junior doubles finals (1-2) this season.
===============================================
Promotional Playoff Match #3 - Larsson/Lister (SWE) def. Barritza/Francati (DEN)
...6-2/6-4.
And, finally, the Caro-less Danes are tamed.
Mission completed in the deciding doubles together with Johanna Larsson?? Next year new division for ???? #teamwork #nextlevel pic.twitter.com/kvqtn6AITl

— Cornelia Lister (@cornylister) April 22, 2017
===============================================
USA Kathy Rinaldi
=
"Sometimes things don't go as smoothly as you'd hoped, so a contingency plan is necessary... right, Mary Joe?"
BLR Eduard Dubrou
=
"Hey, Vika... I guess you HAVE to be back to your old self by November now, huh?"
CZE Petr Pala
=
"How to Win Even When You Actually Lose," by Your Captain
NED Paul Haarhuis
=
the Dutch slide is over
GER Barbara Rittner
=
my pet player isn't named Barbara
FRA Yannick Noah
=
"We won, that's all that matters, right?"
AUS Alicia Molik
=
I could get used to this, and maybe I WILL, too.
CAN Sylvain Bruneau
=
Genie, who?
BEL Dominique Monami
=
they're not Justine & Kim, but they'll do...
ITA Tathiana Garbin
=
in lieu of flowers...
ROU Monica Niculescu
=
Captain Niculescu... it has a nice ring to it, even if it takes a few years
SLO Andrej Krasevec
=
out of the shadows of Central Europe...
SWE Mattias Arvidsson
=
"It's not about how you start, it's how you finish."
NOR Jorgen Vestli
=
"I'm not sure what I have here, but it's better than most people realize."
SUI Heinz Gunthardt
=
"What the hell just happened?"
GBR Anne Keothavong
=
the art of getting dragged into a story not of your own making
UKR Mikhail Filima
=
"Well, Eli -- you tried... still, please come back in '18."
DEN Jens-Anker-Andersen
=
Caro... pretty please?
ESP Conchita Martinez
=
"Hey, whattayagonnado?"
SRB Tatjana Jecmenica
=
"Hey, even I sort of knew this was going to happen."
SVK Matej Liptak
=
one of those "What If?" scenarios would be nice right now
TPE Wang Shi-ting
=
home cooking would have been nice
KAZ Dias Doskarayev
=
some Captains never learn
RUS Anastasia Myskina
=
ditto
ROU Ilie Nastase
=
will the ITF do the RIGHT thing? [INSERT GUFFAW HERE]
**OVERALL FED CUP TITLES**


17...United States
6...Australia
5...Czech Republic
5...Czechoslovakia
5...Spain
4...Italy
4...Russia
2...France
2...West Germany/Germany
1...Belgium
1...Slovakia
1...South Africa


[Finals since 2010]


5...Czech Republic (5-0)
3...Russia (0-3)
2...Italy (2-0)
2...UNITED STATES (0-1)
1...BELARUS (0-0)
1...France (0-1)
1...Germany (0-1)
1...Serbia (0-1)


[Finals since 2000]


8...Russia (4-4)
5...Czech Republic (5-0)
5...Italy (4-1)
5...UNITED STATES (1-3)
4...France (1-3)
3...Spain (0-3)
2...Belgium (1-1)
1...BELARUS (0-0)
1...Slovakia (1-0)
1...Germany (0-1)
1...Serbia (0-1)



**RECENT FED CUP FINALS**


2000 USA d. ESP 5-0
2001 BEL d. RUS 2-1
2002 SVK d. ESP 3-1
2003 FRA d. USA 4-1
2004 RUS d. FRA 3-2
2005 RUS d. FRA 3-2
2006 ITA d. BEL 3-2
2007 RUS d. ITA 4-0
2008 RUS d. ESP 4-0
2009 ITA d. USA 4-0
2010 ITA d. USA 3-1
2011 CZE d. RUS 3-2
2012 CZE d. SRB 3-1
2013 ITA d. RUS 4-0
2014 CZE d. GER 3-1
2015 CZE d. RUS 3-2
2016 CZE d. FRA 3-2
2017 United States at Belarus



**2018 FED CUP**




=World Group=


Belgium
Belarus
Czech Republic
France
Germany
Netherlands
Switzerland
United States


=World Group II=


Australia
Canada
Italy
Romania
Russia
Slovakia
Spain
Ukraine

*WEEK 16 CHAMPIONS*
ZHENGHOU, CHINA (WTA 125 Series/HC)
S:

Wang Qiang/CHN def. Peng Shuai/CHN 3-6/7-6(3)/1-1 ret.


D:

Han Xinyun/Zhu Lin (CHN/CHN) d. Jacqueline Cako/Julia Glushko (USA/ISR) 7-5/6-1

RISER:
Wang Qiang/CHN
...Wang outlasted Peng Shuai in the all-Chinese battle in the Zhenghou WTA 125 Series final. Ranked #68, 25-year old Wang lost just one set en route to the final, defeating Hiroko Kuwata, Valentini Grammatikopoulou, Liu Fangzhou and Duan Yingying. In the final, she dropped the opening set, but pushed things to a 3rd by winning a 2nd set TB, then saw Peng retire at 1-1 in the deciding set. It's Wang's biggest career title (
she lost in another 125 final in '14
), though she has won thirteen ITF singles crowns in seventeen finals. She's 0-3 in tour-level QF matches in '17, but this result will lift her ranking to a career-high #37.
===============================================
VETERAN:
Peng Shuai/CHN
...the 31-year old looked to be cruising to a singles title in the 125 Series event in Zhenghou. The #1-seed after taking a wild card into the Asian player dominated (
and mostly Chinese-filled
) draw, she reached the final without dropping a set, taking out the likes of Shuko Aoyama, Riko Sawayanagi, Zarina Diyas and Zheng Saisai. Looking to continue what has been a great comeback season --
it's included wins over players named Garcia, A.Radwanska, Strycova, Siniakova, Stosur, Safarova and Kasatkina
-- that had her at #40 after ending her injury-delayed '16 campaign outside the Top 100, Peng went into the final with a 19-8 '17 record (
30-9 dating back to her closing events last year
) that was on an 11-2 hot streak. She won the 1st set of the championship match vs. countrywoman Wang Qiang, but failed to put away the 2nd set TB, then retired after two games into the 3rd. If Peng had won the title in what was the 25th tournament in the WTA 125 Series history, she'd have become the first woman to claim two such singles titles (
w/ '14 Nanchang
). In October, when she finally won her maiden tour-level title in Tianjin, she was the 14th player to have won both WTA and WTA 125 singles crowns in a career.
With a Roland Garros seed in her sights (
she'll be ranked #37 on Monday
), Peng has joined the long list of players recently deciding to focus on their singles, signaling the end of another recently successful doubles duo.
Andrea Hlavackova and Peng Shuai Split as Peng Wishes to Focus on Singles https://t.co/mbnZHIWLA0 pic.twitter.com/7WPwCvJJaW

— Tennis World English (@TennisWorlden) April 15, 2017
===============================================
.@kristieahn wins biggest title @ 60k Dothan beating Anisimova 16 62 62. Great performance. Anisimova still leads RG WC race. #WTA #USTA pic.twitter.com/PQuB1AVlgV

— DEUCE ?? (@sixthreesixfour) April 23, 2017
ITF PLAYER:
Kristie Ahn/USA
...it was a banner week for Bannerettes. While the Fed Cup team was winning in Florida, Ahn was winning an all-U.S. final vs. teenager Amanda Anisimova in the $60K challenger in Dothan, Alabama. The 24-year old picked up career ITF title #6, her biggest yet, after getting wins over Jennifer Elie, Fanni Stollar, Barbara Haas and then the 15-year old junior in a 1-6/6-2/6-2 final.
===============================================
JUNIOR STAR:
Amanda Anisimova/USA
...a week after a runner-up performance with a three-set loss to Olga Govortsova in the $80K Indian Harbour Beach challenger, the 15-year old reached yet another final in the $60K Dothan event. The '16 Roland Garros girls runner-up knocked off Lizette Cabrera, Paula Kania, Sophie Chang and Sonya Kenin before falling in another three-setter vs. Kristie Ahn. Anisimova is now 0-3 in '17 ITF finals, but Ahn gave her encouragement after coming out on top on Sunday.
Nice words from Kristie Ahn about Amanda Anisimova: "Keep your head up. Good things are gonna come." ????

— Ben (@TennisWinter) April 23, 2017
===============================================
DOUBLES:
Han Xinyun/Zhu Lin (CHN/CHN)
...Han & Zhu combined to win the WTA 125 Series title in Zhenghou, defeating #1-seeded Shuko Aoyama/Wang Yifan in an 11-9 deciding TB in the 2nd Round, then ultimately taking out Jacqueline Cako/Julia Glushko in straight sets in the final. It's 23-year old Zhu's biggest career title, while for Han, 26, it's her second-largest crown (
her one tour-level WD title in five finals came in Hobart last season w/ Christina McHale
). Han & Zhu combined to reach a $100K challenger final last November.
===============================================
We heard you're expecting a new arrival, @serenawilliams ??

Congratulations from all of us at #Wimbledon ?? pic.twitter.com/scrfgaJGwh

— Wimbledon (@Wimbledon) April 20, 2017

1.
Zhenghou Final - Wang Qiang def. Peng Shuai 3-6/7-6(3)/1-1 ret.
Zhenghou Final - Han Xinyun/Zhu Lin def. Jacqueline Cako/Julia Glushko 7-5/6-1
...
this is the second time in the history of the WTA 125 Series that Chinese women have swept the singles and double titles.
===============================================
2.
Stuttgart Q1 - Jelena Ostapenko def. Lena Rueffer 6-2/7-6(4)
Stuttgart Q1 - Natalia Vikhlyantseva def. Naomi Broady 6-3/6-4
...
if Broady had won, we'd have had the long-awaited "championship belt rematch" of the Ostapenko/Broady Auckland showdown from Week 1 of 2016.
===============================================
3.
Stuttgart Q2 - Tamara Korpatsch def. Oceane Dodin
...2-6/6-3/7-6(3).
Hmmm, I wonder if the Pastries will find the time to do a coordinated "LOL" tweet after this, or keep it a little more private this time?
Dodin & Garcia should team up for doubles at Roland Garros.
===============================================
HM-
$15K Hammamet Final - Tessah Andrianjafitrimo def. Camilla Scalla
...6-2/6-4.
How long before the FFT sends out feelers to Andrianjafitrimo about HER feelings about Fed Cup? The 18-year old picked up her third career ITF title here, denying the 22-year old Italian her third of the season.
A reminder that Tessah Andrianjafitrimo was a set up on Marketa Vondrousova in the 1R of qualifying. #Biel

— The Overrule (@theoverrule) April 16, 2017
===============================================
Baby-steppin'...
Day 1 walking... EXCITED!!!!!!! pic.twitter.com/47PReC1EGT

— Sloane Stephens (@SloaneStephens) April 18, 2017

1.
Zhenghou 2nd Rd. - Duan Yingying def. ARINA RODIONOVA
...4-6/6-4/7-6(5).
Duan lost in the 1st Round in Charleston to Anastasia.
===============================================
2.
Stuttgart Q2 - NAOMI OSAKA def. Anna Zaja
...5-7/6-3/7-6(8).
Playing against the world #263, Osaka overcomes a 5-2 3rd set deficit, and 5-2 whole in the deciding TB to live to play another day.
===============================================
Mum's the word! @vika7 is over the moon for @serenawilliams?! ???? pic.twitter.com/y2mb19DWBv

— Fed Cup (@FedCup) April 20, 2017

"Auntie Caro" sounds pretty good to me???? Everyone around me getting pregnant! What a beautiful time ??????????????????

— Caroline Wozniacki (@CaroWozniacki) April 20, 2017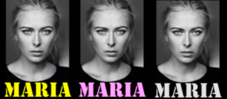 3x champion @MariaSharapova will open @PorscheTennis against @Roberta_Vinci! pic.twitter.com/t0CovMHlnn

— WTA (@WTA) April 22, 2017
Spotted as we walk back from the draw to media center @PorscheTennis. pic.twitter.com/3MAkIBtxRD

— WTA Insider (@WTA_insider) April 22, 2017

**WTA 125 SERIES CHAMPIONS - CHINESE**
2013 NANJING - Zhang Shuai
2014 NANCHANG - Peng Shuai
2015 DALIAN - Zheng Saisai
2017 ZHENGHOU - Wang Qiang
**WON WTA & WTA 125 SINGLES TITLES**
Lara Arruabarrena, ESP
Timea Babos, HUN
Misaki Doi, JPN
Caroline Garcia, FRA
Jelena Jankovic, SRB
Bojana Jovanovski, SRB
Kristina Mladenovic, FRA
Shahar Peer, ISR
Peng Shuai, CHN
Kristyna Pliskova, CZE
Yaroslava Shvedova, KAZ
Elina Svitolina, UKR
Yanina Wickmayer, BEL
Zhang Shuai, CHN
**2017 ITF SINGLES TITLES**
3 - Polina Monova, RUS
3 - Dejana Radanovic, SRB
3 - Maria-Teresa Torro-Flor, ESP
3 - Sarah-Rebecca Sekulic, GER
2 - Destanee Aiava, AUS
2 - Audrey Albie, FRA
2 - Ekaterina Alexandrova, RUS
2 - Bianca Andreescu, CAN
2 - Marie Bouzkova, CZE
2 - Cristina Dinu, ROU
2 - Andrea Gamiz, VEN
2 - Mayo Hibi, JPN
2 - Anhelina Kalinina, UKR
2 - Petra Krejsova, CZE
2 - Camilla Scala, ITA
2 - Katie Swan, GBR
2 - Marketa Vondrousova, CZE
2 - Isabelle Wallace, AUS


STUTTGART, GERMANY [Premier/Red Clay Indoor]
16 Singles Final: Kerber d. Siegemund (Kerber 2015-16)
16 Doubles Final: Garcia/Mladenovic d. Hingis/Mirza (my, how things change quickly in doubles...)
17 Top Seeds: Kerber/Ka.Pliskova
=============================
=SF=
(WC) Sharapova d. Kasatkina
#4 Halep d. #8 Kuznetsova
=FINAL=
(WC) Sharapova d. #4 Halep
...the way things are going this season, why WOULDN'T Sharapova win this week?
=DOUBLES FINAL=
Olaru/Savchuk d. Knoll/Schuurs
ISTANBUL, TURKEY (Int'l/Red Clay Outdoor)
16 Singles Final: Buyukakcay d. Kovinic
16 Doubles Final: Mitu/Soylu d. Knoll/Kovinic
17 Top Seeds: Svitolina/Babos
=============================
=SF=
#1 Svitolina d. (WC) Yastremska
#3 Begu d. #6 Mertens
=FINAL=
#1 Svitolina d. #3 Begu
...here's Svitolina's change to put that Fed Cup loss behind her.
=DOUBLES FINAL=
Jakupovic/N.Kichenok d. Babos/Buyukakcay
All for now.